---
Waterford's Kindergarten program provides the base for a successful academic journey through Waterford's vertical curriculum (PreK-12). Waterford Kindergarten students enter the first grade prepared to excel and tackle new challenges.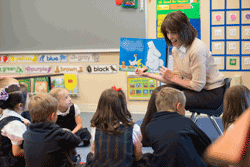 Check out this valuable guide to catch a glimpse into the day of a Full Day Kindergarten student. Waterford's program offers a rich and lively environment where the joy of learning is central to the experience of each child.

Complete the form and we'll take you there!